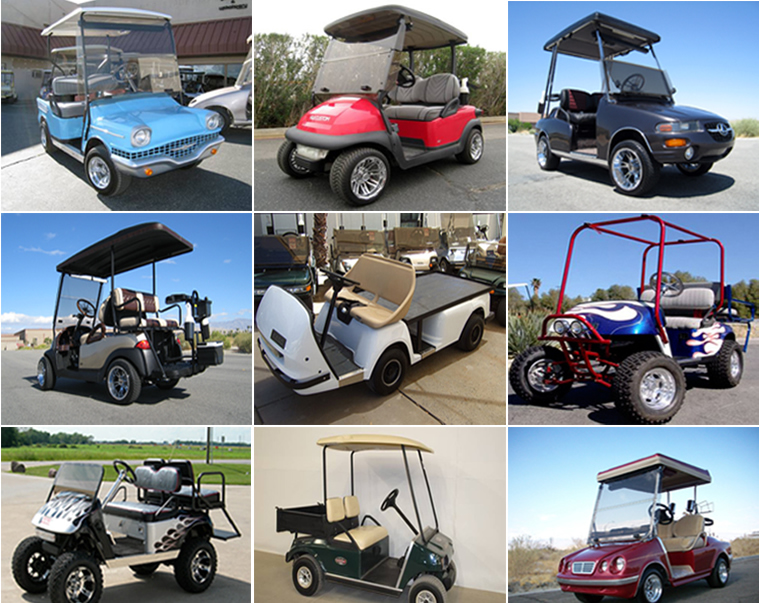 About AC Electric Vehicles - Golf Cart Specialists
AC ELECTRIC VEHICLES has been serving the golf cart communities of Coachella Valley for over 16 years. Established in 1994, our main office and shop is located at 77588 El Duna Court, Suite G, Palm Desert, California 92211. We're in the Desert Business Park just off Washington Street near the I-10 freeway, across from Sun City. Our main entrance faces El Viento Rd.
We specialize in custom golf cart bodyworks. If your golf cart needs new paint, upholstery or bodywork, AC ELECTRIC VEHICLES professionals will make your cart look like new again. Or if you're just tired of your golf cart and ready for a change. bring it to AC ELECTRIC VEHICLES and trade it in for one of our quality custom golf carts or design your own and we'll build it for you. Yes, we do accept trade-ins as well as consignments. Financing is available.
AC ELECTRIC VEHICLES also has a full-service golf cart maintenance and repair shop offering diagnostics checkups, tune-ups and lift-kits for all electric golf carts. We can also convert your gas golf cart to electric. Golf cart pick-up and delivery service is available and scheduled golf cart mobile service can be done at your home, golf course or office. We even have a golf cart storage facility where we can store your cart for the summer and perform the annual service maintenance on the unit when you come back for your winter vacation. Just ask for the Snowbird Special.
We take great pride not only in our quality craftsmanship, but also in our unique recycling program. AC ELECTRIC VEHICLES refurbishes or recycles all golf carts that we accept in trade, so absolutely no part is wasted.
CUSTOMER SERVICE

Privacy Protection
Protecting your privacy, along with your confidential business records, is of primary importance to us as it relates to your satisfaction with our service. We can only succeed if you are fully satisfied. You have chosen to use our service, and we recognize our obligation to keep the information you provide to us secure and confidential. Our commitment to protect your information will continue under the principles and online guidelines described in our full Privacy Statement.
Return Policy
Within 30 days of delivery of your order, you may return or exchange any or all of the items you purchased from www.acvehicle.com for a full refund or credit.
Call customer service at (760) 325-0070 for authorization and instructions to returning your items. We cannot accept returns of opened or used items, or items returned more than 30 days after delivery.
Shipping Guidelines
AC ELECTRIC VEHICLES can ship parts to virtually any address in the world. We ship all domestic and international orders via UPS. Orders must be placed by 12:00 PM, PST in order to be shipped the same day. Overnight and 2-day service available for an additional charge.